Reading time ( words)
As an established manufacturer of reflow soldering systems, Rehm Thermal Systems has also made a name for itself in the Asian electronics market for more than 10 years. At the beginning of July, the thermal system solutions expert will be attending the productronica China in Shanghai. There it will showcase the highlights of its extensive product portfolio, as well as further developments in system and process engineering, including the convection soldering system VisionXP+ Vac, the dispensing system Protecto plus the vapour phase soldering system CondensoXS smart.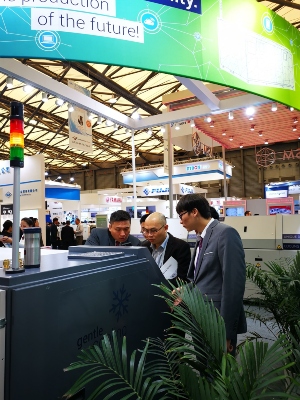 The productronica China show will be held from 3 to 5 July in the National Exhibition and Convention Center (NECC) in Shanghai. Among the highlights to be presented by Rehm Thermal Systems at its stand in Hall 5.1, Number B117 is the convection soldering system VisionXP+ Vac – a technology clearly in line with the trend towards the sustainable management of natural resources. With a particular focus on energy efficiency, reducing emissions and operating costs, EC motors were integrated in the VisionXP+ – these enabling energy to be saved demonstrably. Rehm offers an innovative solution for reflow soldering in the form of the VisionXP+ Vac. In just one process, a vacuum module enables convection soldering processes to be carried out under vacuum. This reliably removes pores, gas occlusions and voids immediately after the soldering process – whilst the solder is still in its optimal molten state. Complex processing of the assembly via an external vacuum system is no longer necessary, and the workpieces are moved straight into the vacuum process from the peak zones.
Rehm is also set to present the dispensing system Protecto, which stands out thanks to its process safety – for both large and small batch sizes. The Protecto will satisfy all requirements for the highest quality, stability and productivity for automatic inline coating jobs. With up to four lacquer applicators, several assemblies can be coated simultaneously in master-slave operation, or up to four different materials can be applied directly without a set-up time.
The vapour phase soldering system CondensoXS smart is impressive thanks to its new chamber design and flexibility throughout the entire line. The new chamber design with a vertically opening/closing chamber ensures optimum hermetic sealing and thus reliable and reproducible results. The CondensoXS smart can be configured flexibly. Both manual and automatic loading and unloading designs are available. Flexible cooling options, a vacuum and the injection principle also ensure reliable processes with this model in a partially automated production environment with a medium-size production volume.
Share
Print
Suggested Items
09/16/2020 | Real Time with...SMTAI
KYZEN Executive Vice President Tom Forsythe shares company updates on stencil cleaning with Nolan Johnson. KYZEN recently announced its newest stencil cleaning product—KYZEN E5631. Forsythe details how the product is best used, as well as the benefits it brings to maximizing stencil life and improving manufacturing yields.
09/15/2020 | I-Connect007 Editorial Team
First, we asked you to send in your questions for Happy Holden and Joe Fjelstad in our "Just Ask" series. Now, it's Eric Camden's turn! A regular SMT007 columnist, Eric is a lead investigator at Foresite Inc., an analytical testing and consulting laboratory. As a reliability expert, Eric has worked with many large OEMs and contract manufacturing companies to optimize their manufacturing processes and assist with the identification of electronic hardware failures utilizing various analytical techniques. He also specializes in optimizing PCBA processes and identifying hardware failures through analysis. We hope you enjoy "Just Ask Eric."
08/25/2020 | I-Connect007 Editorial Team
First, we asked you to send in your questions for Happy Holden. Now, it's Joe Fjelstad's turn! Inventor, columnist, instructor, and founder of Verdant Electronics, Joe has been involved with rigid PCBs and flexible circuits for decades, and he's ready to share some of his knowledge with our readers. We hope you enjoy "Just Ask Joe."