Reading time ( words)
Productronica China, which took place at the beginning of July, was the first trade fair to be held in Asia since the beginning of the coronavirus pandemic. To everyone's surprise, the trade fair was amazingly well-attended and the aisles in the halls were full of interested trade fair visitors despite the strict hygiene regulations.
Rehm Thermal Systems was one of the many exhibitors from all over the world that attended the trade fair. The manufacturer of thermal system solutions from Blaubeuren-Seißen presented several systems from its product portfolio there.
Rehm Thermal Systems can look back on a successful trade fair attendance: the productronica China trade fair was held at the National Exhibition and Convention Center (NECC) in Shanghai at the beginning of July. Although all visitors had to wear a mask in order to gain entry to the trade fair site, more visitors than expected attended this trade fair, which was one of the first to take place during the first acute phase of the coronavirus pandemic.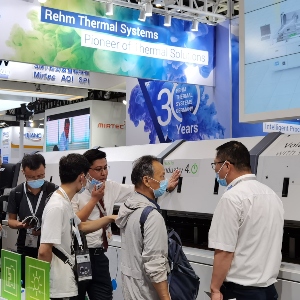 Yu Wang, Rehm Sales Director for the regions of eastern and northern China, emphasised that intelligent manufacturing is vital at the moment for the future of electronic manufacturing in a global context.
Rehm's innovative ViCON software is entirely in line with this development trend and is geared toward the requirements of intelligent manufacturing. There have been continuous software extensions since the market launch and the software is now available for almost the entire range of Rehm systems. These systems include the VisionXP+ Vac vacuum reflow soldering system, as well as the ProtectoXC coating system, which were both presented at productronica China.
The new CondensoXS smart was the primary focal point of the Rehm Thermal Systems trade fair attendance this year, attracting the interest of many visitors. The CondensoXS smart vapour phase soldering system is impressive thanks to its new chamber design and flexibility throughout the entire line. The new chamber design with a vertically opening/closing chamber ensures optimum hermetic sealing and thus reliable and reproducible results. The CondensoXS smart can be configured flexibly. Both manual and automatic loading and unloading designs are available. Flexible cooling options, a vacuum and the injection principle also ensure reliable processes with this model in a partially automated production environment with a medium-size production volume.
The ProtectoXC was also presented at productronica China and is primarily suitable for small- and medium-batch sizes, combining precise coating with the perfect protection for the assembly groups. When developing the ProtectoXC, the focus was on ensuring that the system features a modern look and intuitive operation, whilst also providing reliable protection for high-quality circuit boards. The VisionXP+ Vac convection soldering system is outstanding thanks to its energy-saving EC motors, an optional vacuum chamber to reduce the voids and various versions for gentle cooling of the assembly groups.
Share
Print
Suggested Items
04/21/2021 | Sagi Reuven and Zac Elliott, Siemens Digital Industries Software
Companies have been collecting data in large volumes. Highly varied data from manufacturing operations comes in quickly that needs to be validated, and its value prioritized so that it can be turned into something useful—transformed from big data to smart data. The amount of data available has grown exponentially into big data. Twenty years ago, a PCB work order resulted in 100 data records, megabytes of data; today, it is 10 billion records, terabytes of data. The investment in collecting this data and storing it is high. However, without a way to analyze the data, without analytics, it will not result in ROI.
04/07/2021 | Sagi Reuven and Zac Elliott, Siemens Digital Industries Software
Whenever we discuss data, keep in mind that people have been collecting data, verifying it, and translating it into reports for a long time. And if data is collected and processes are changed automatically, people still will be interpreting and verifying the accuracy of the data, creating reports, making recommendations, solving problems, tweaking, improving, and innovating. Whatever data collection system is used, any effort to digitalize needs to engage and empower the production team at the factory. Their role is to attend to the manufacturing process but also to act as the front line of communications and control.
04/05/2021 | Timothy McLean, TXM Lean Solutions
Building a competitive and reliable supply chain is a critical success factor for any manufacturing business. This is especially true today, where we face constant volatility and disruption across global supply chains. In this environment, effective supply chain leadership is more critical than ever. So, what makes a great supply chain manager?