Reading time ( words)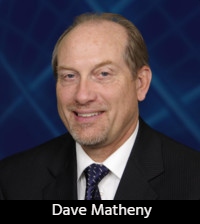 The Wiring Harness Manufacturer's Association (WHMA), a nonprofit trade association exclusively representing the cable and wire harness manufacturing industry including manufacturers, their suppliers and customers, announces the appointment of two new members to the board of directors: John Dew, senior vice president of global sales, IEWC, and Dave Matheny, president of ESAM. Both companies are founding members of WHMA and ESAM had an original member on the Board of Directors, Robert Morison.
Dew has been with IEWC, a global solutions provider for wire and cable management, for more than 30 years and will bring his extensive knowledge in supply chains and logistic solutions for wire, cable and wire management products. He is also responsible for sharing a WHMA-member resource titled "Hot Wire," a news and economic outlook for the wire and cable industry, that you can find on WHMA's website under the Resources/Newsletter tab.
Matheny has been with ESAM for more 25 years and will bring his vast knowledge in outsourcing manufacturing in wire and cable assemblies and harnesses and engineering services to the board as well as experience in strategy and collaboration.
"We are thrilled to welcome John and Dave to our board of directors," said David Bergman, WHMA executive director. "They bring decades of leadership and expertise in manufacturing and technology – two areas that are vital to our association's ongoing success and strategy."
The 2020-2021 Board of Directors and Officers are listed below.
2020/2021 Board Officers:
Chairman: Rick Bromm, Altex
Vice Chairman/Secretary: Joe DeMan, Amphenol – CTI
2020/2021 Board Directors:
Parker Garrett, EMSCO
Bud Bowen, Winchester Interconnect
Joe Roberts, Hellermann Tyton
Gustavo Farell, Cesar-Scott
Micah Durham, Schleuniger
Todd Maines, Tack Electronics
John Dew, IEWC
Dave Matheny, ESAM
David Bergman, Executive Director, WHMA
Share
Print
Suggested Items
10/28/2020 | Pete Starkey, I-Connect007
Webinars are in vogue! But in Pete Starkey's experience, the master of the technical webinar with many years' experience of delivering first-rate events is Bob Willis—electronics assembly specialist, soldering expert, and provider of training and consultancy in electronics manufacture. Here, Pete recaps Bob's presentation on the upcoming robotic soldering experience.
10/30/2019 | I-Connect007 Editorial Team
I-Connect007 reached out to representatives from several industry standards organizations and talked with them about how they participate in the standards process. Along the way, these conversations clarify which group does what, how they all work together as well as clarify and dispel a couple of industry myths.
07/17/2019 | Young K. Song and Vanja Bukva, Teledyne Dalsa Inc., and Ryan Wong, FTG Circuits
Initially adopted internal specifications for acceptance of printed circuit boards (PCBs) used for wire bonding was that there were no nodules or scratches allowed on the wirebond pads when inspected under 20X magnification. This paper details if wire bonding could be successfully performed over nodules and scratches and if there was a dimensional threshold where wire bonding could be successful.