Reading time ( words)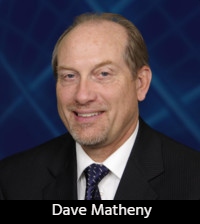 The Wiring Harness Manufacturer's Association (WHMA), a nonprofit trade association exclusively representing the cable and wire harness manufacturing industry including manufacturers, their suppliers and customers, announces the appointment of two new members to the board of directors: John Dew, senior vice president of global sales, IEWC, and Dave Matheny, president of ESAM. Both companies are founding members of WHMA and ESAM had an original member on the Board of Directors, Robert Morison.
Dew has been with IEWC, a global solutions provider for wire and cable management, for more than 30 years and will bring his extensive knowledge in supply chains and logistic solutions for wire, cable and wire management products. He is also responsible for sharing a WHMA-member resource titled "Hot Wire," a news and economic outlook for the wire and cable industry, that you can find on WHMA's website under the Resources/Newsletter tab.
Matheny has been with ESAM for more 25 years and will bring his vast knowledge in outsourcing manufacturing in wire and cable assemblies and harnesses and engineering services to the board as well as experience in strategy and collaboration.
"We are thrilled to welcome John and Dave to our board of directors," said David Bergman, WHMA executive director. "They bring decades of leadership and expertise in manufacturing and technology – two areas that are vital to our association's ongoing success and strategy."
The 2020-2021 Board of Directors and Officers are listed below.
2020/2021 Board Officers:
Chairman: Rick Bromm, Altex
Vice Chairman/Secretary: Joe DeMan, Amphenol – CTI
2020/2021 Board Directors:
Parker Garrett, EMSCO
Bud Bowen, Winchester Interconnect
Joe Roberts, Hellermann Tyton
Gustavo Farell, Cesar-Scott
Micah Durham, Schleuniger
Todd Maines, Tack Electronics
John Dew, IEWC
Dave Matheny, ESAM
David Bergman, Executive Director, WHMA
Share
Print
Suggested Items
09/21/2020 | Real Time with...SMTAI
Nolan Johnson speaks with Insituware CEO and Chief Engineer Michael Frederickson. Insituware's expertise in materials control and measurement brings some innovative new handheld measurement devices to the manufacturing floor. Mike and Nolan discuss how these new devices contribute to accuracy, compliance, and real-time process optimization—all key factors in the smart factory environment. Mike also teases what the company will demonstrate in their virtual booth at SMTAI.
09/16/2020 | Nolan Johnson, I-Connect007
Nolan Johnson connected with three SMTA principals—KYZEN's Debbie Carboni, SMTA's Ryan Flaherty, and Rockwell's Greg Vance—to discuss the upcoming 2020 SMTA International (SMTAI) event, the first major electronics manufacturing conference and exhibition to go virtual this year. The panel gives an overview of exhibits, technical conference presentations, and professional networking in this new format. and provides some coaching on how to to get the most from this virtual event.
09/16/2020 | I-Connect007 Editorial Team
Nolan Johnson speaks with Joel Scutchfield, director of sales for the Americas, about Koh Young's exhibit at SMTAI. Scutchfield outlines all the new products being displayed in the virtual booth and discusses the increased role that the company sees for AI in their products and the smart factory flow.